Christmas and New Year in Zlatorog Village – Bohinj
The most beautiful leap from the old year to new fairy tale experiences
As the new year arrives, bidding farewell to the past and welcoming new opportunities, Ukanc is the place where New Year's promises that last are written. Open the doors to new beginnings at the end of the world and create wonderful memories in the embrace of winter idyll with your loved ones.
Step into the new year full of inspiration and fresh energy. Find warmth and comfort in our fairy-tale chalets that will instantly captivate you. Here with us, time stands still, and experiences become eternal.
Included services
Accommodation at ALPIK Chalets - Bohinj
Zlatorog's welcome
Bohinj breakfast (optional)
Free parking + EV charger
Free high speed WiFi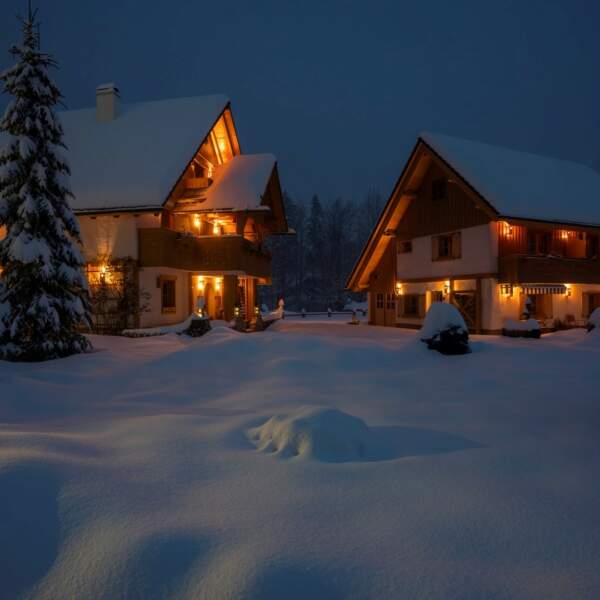 YOUR MOST MAGICAL ESCAPE YET
The perfect blend of comfort and enchantment ensures that you will step into the new year with warmth in your heart and a twinkle in your eye. Let ALPIK Chalets – Bohinj become your winter haven amidst the snowy backdrop that surrounds us. Relax and surrender to the magic of the winter season in the embrace of nature here.
Homeliness – feel at home but surrounded by nature
Alpine style – our special attention to detail and wooden design captivate everyone
Fairy-tale ambiance – enchanting atmosphere created by interior and exterior lighting
Tranquility and privacy – ideal for a relaxing escape from the hustle and bustle of the city
Book your Christmas and New Year's getaway with us and immerse yourself in the magic of winter.
Reserving your unit is just a few simple steps away. If you need additional information or assistance with your reservation, please contact us via email at alpik@alpik.com. We look forward to seeing you soon.