Fairy-tale relaxation for two
Bed&breakfast from 69,5€ per person
Inhale the fresh mountain air and head out on an adventure in nature! A fairytale getaway for two in Zlatorog Village – Bohinj is perfect for two of you who are looking for peace and a break from the crowded everyday life. If you like to be active on vacation and want to do something for your well-being and health, while at the same time you appreciate the unspoilt and fairy-tale beautiful nature, then don't think too long and decide today for a fairy-tale experience of the nature protected by Zlatorog (Goldhorn) – mythical white chamois with golden horns.
Explore the possibilities that Zlatorog Village – Bohinj has to offer.
Included services
Included
Included
100% self check in
Virtual reception
Bohinj cheese
Local Bohinj breakfast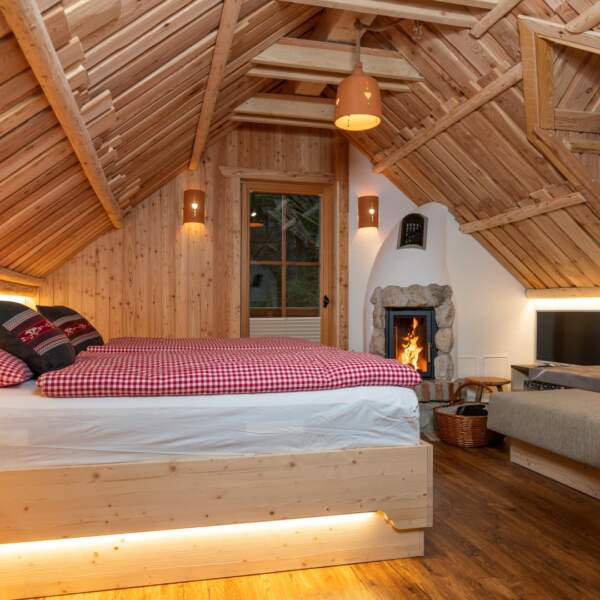 Where are we located?
Find us in Ukanc village, in Bohinj, Slovenia. Our location is an excellent starting point for excursions in Bohinj region. We are located in the middle of nature, only 250m from Lake Bohinj and only 600m from Vogel Ski Center. Ukanc means "at the end", so we say that we are at the end of the world. Find the new beginnings at the end of the world.
What does your second home look like?
As soon as you step into your new nest, you will be immediately overwhelmed by a feeling of homeliness, comfort and warmth. You can choose from different sized units, sweet dreams are waiting for you everywhere. All units are fully equipped for a carefree holiday, but what will surely impress you the most is the wonderful interior design in the recognisable alpine style. Carefully selected details provide additional magic.
All units offer a fully equipped kitchen, private bathroom and toilet, sleeping area, balcony or terrace. Some units also have a fireplace and sauna. We recommended couples to rent Chalet Studio Govic with fireplace, located on the first floor of the new Zlatorog's house, while both a fireplace and a sauna are available in Chalet Zlatorog.

Head out for fairytale views
You are probably wondering how to make the most of your time and where you can go and what to see. Hike up to the viewpoints and admire Lake Bohinj from above. You won't easily forget the views from the Peč, Rudnica, Vogar, Vogel and Studor viewpoints. The Savica Waterfall will amaze you with its primordial energy. The best time to visit the waterfall is early in the morning, when the rainbow appears. Visit the Uskovnica pasture and walk all the way to the Zajamniki pasture. If you prefer to be somewhere near the water, we recommend a pleasant and easy walk through the Mostnica Gorge all the way to the Voje valley and to the waterfall.
White winter fairy-tale
Winter here is truly playful and magical. After a local breakfast, you can choose between rest and relaxation or a variety of outdoor activities. Visit Aquapark Bohinj and escape the cold. Are you up for one royal relaxation for two (full body peeling, steam sauna, classic body massage)? You can go ice-skating or sledding, skiing (we are only 600m from the Vogel Ski Centre), snowshoeing, cross-country skiing, winter hiking. There are plenty of opportunities to create unforgettable memories. The viewpoints that we mentioned above, can also be reached in winter time, just make sure you have the right equipment.
What if it rains?
Feel the calm and tranquillity of nature, as you can only feel in the rain. There are many activities possible in Bohinj, even when it is raining. The waterfalls are worth a visit, as they look more majestic at that time. Walk to the lake and jump in the puddles. Did you forget your umbrella at home? Don't worry, we've thought of everything, you can borrow one from us. Did you know that we in Bohinj have a monument dedicated to the weather? If you don't like to be outside in the rain, we have prepared board games in the apartments, and don't forget to bring that book you want to read for a long time. You can spend rainy days in the sauna and enjoying the crackling fire by the fireplace (sauna is only available in the Chalet Zlatorog).
What kind of breakfast is included?
Start the day right way and get ready for all adventures that wait you. You will have the opportunity to taste a local Bohinj breakfast, prepared by local chefs. There are three options: meat, fish and vegetarian, and we leave the choice up to you. Breakfast is delivered directly to your door. Are you one of those who can't imagine starting your day without taste and aroma of coffee? You'll be able to prepare yourself a top-class Illy coffee right from the bed.
Book your fairytale getaway
Use the link sweet dreams to find all available dates and units. You can book in a few steps. If you can't decide which unit to choose, you can also send us an inquiry by clicking on "check availability". Just inform us which dates you'd like and you will receive our offer by e-mail. If you have any questions, we will be happy to help you. Contact us at alpik@alpik.com.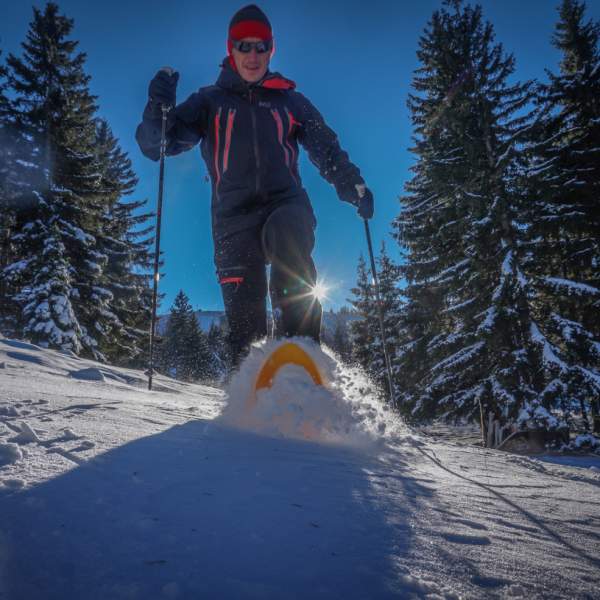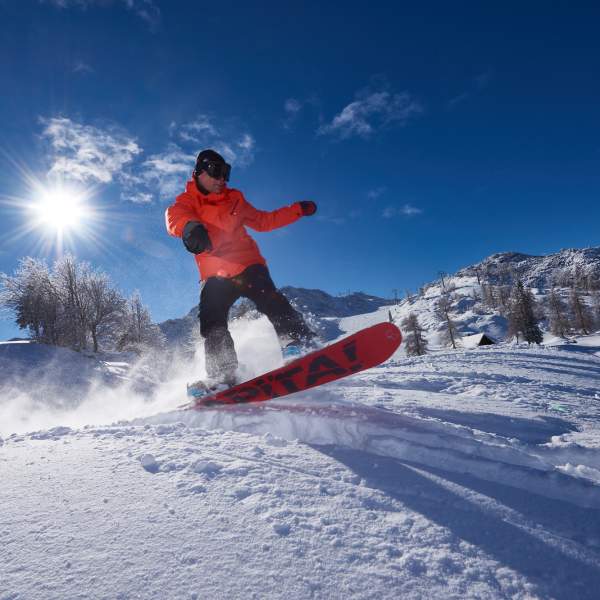 Tourist tax, registration fee and final cleaning are not included in the price and are payed to accommodation provider.